2022 is in full swing and modern designs have changed quite a bit year over year. Although certain styles like bright and open kitchen spaces have remained constant for years, other styles have come and go. With so many people spending more time in the home having transitioned to more remote work schedules, your home has never been more important. If you are thinking about updating your kitchen this year, let the expert team here at Hantel Kitchens & Baths help you design and install your dream kitchen. Here are a few kitchen trends to look for in 2022.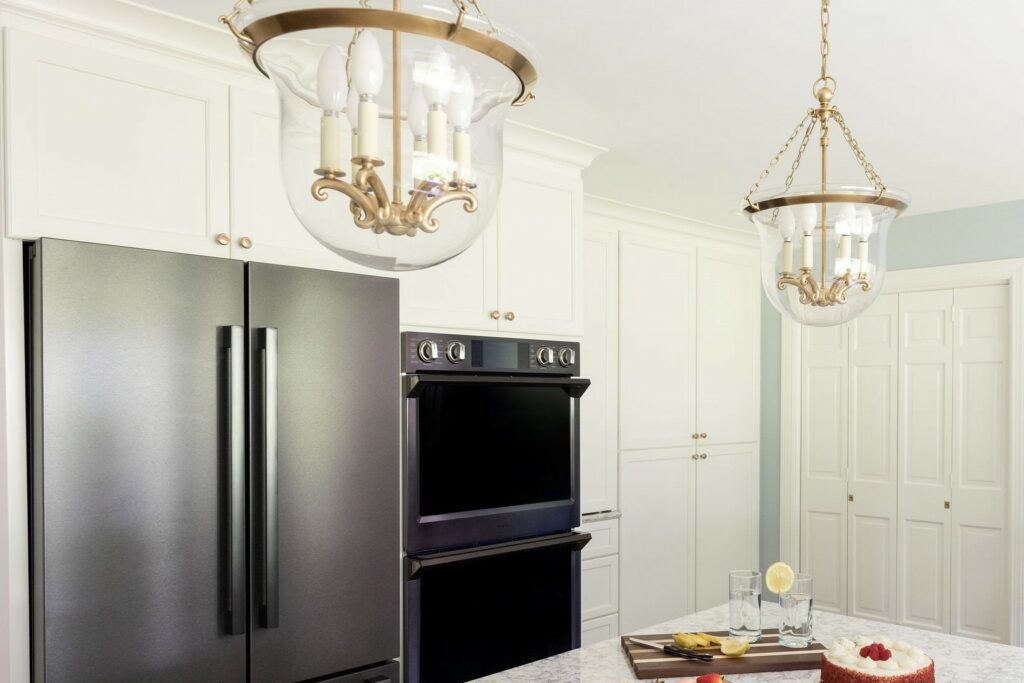 Slate Gray Appliances
If you are looking for the perfect way to unify your space and ensure that your kitchen retains the light and airy look of modern kitchen spaces, slate gray appliances can really help with your design. From larger statement pieces to normal name brands, slate gray appliances like ovens, ranges, and dishwashers can fit seamlessly into any design from modern to rustic.
Mixed metal faucets
If you are looking for the perfect pop of color or even a creative way to tie in an accent metal like copper or brass, a mixed metal faucet could be a perfect solution. With beautifully modern black and brass designs as well as brushed steel and copper designs to choose from, these faucets are the perfect fusion of style and functionality. They also can help you seamlessly integrate larger statement pieces like copper hoods, allowing you to keep a consistent look and feel across your entire space.
Smart faucets and storage solutions
Smart faucets and storage solutions Do you hate it when you have dirty hands and try to turn on the faucet only to find you have traced food or dirt all over your faucet handles? Smart faucets get rid of this common issue by making your water a totally hands-free experience. With dozens of styles and finishes to choose from, these smart faucets give you the flexibility of technology backed by the style of a traditional look.
Smart multi-function appliances
If you are tight on space or want to add some extra functionality to your kitchen, a multi-function appliance. The classic oven and stovetop combination has been used for decades, but smaller appliances like air fryers and mixers have become more versatile and compact than ever.
Matte or suede finish on countertops
If you are looking to make your appliances, accents, or even your backsplash stand out, a matte or suede finish on your countertop could be the perfect piece. We offer dozens of different styles and finishes that easily help your pieces pop without adding too much complexity.
Statement pieces
Few things are more impactful on your design than a beautiful statement piece. Things like a custom hood, a dramatic cabinet color, or a bold backsplash can help you turn your traditional design into a truly unique masterpiece. Don't shy away from these pieces, as they can easily elevate your space to the next level.
If you are interested in learning more about modern styles or want to start designing your new kitchen, contact Hantel Kitchens & Baths today.